Gastronomic journalism conference, research and intercultural communication
The newly appointed by President-elect Joe Biden as United States Ambassador to the UN Linda Thomas-Greenfield has revolutionized the world of diplomacy with a new term. "Gumbo Diplomacy". In this play on words in front of the usual and hegemonic "Bunboat Diplomacy" the new African-American ambassador raised in Louisiana has put on the table the gastronomy how powerful intercultural communication tool. Gumbo is a Louisiana Creole cuisine stew resulting from the historical fusion of ingredients and cultures. Linda Thomas-Greenfield during her appointment last November explained that "wherever in the world I find myself, I invited people of different origins and beliefs to help me make roux and chop onions for the Holy Trinity of a homemade gumbo. It was my way of breaking down barriers, connect with people and start seeing myself on a human level ".
And it is from that place that the new ambassador wants to confront the interconnected conflicts in this global world such as the pandemic., the climate change crisis, mass migration and extreme poverty. Taking advantage of this current hanger, as well as the growing interest of the scientific community from the Humanities and the enthusiasm of the students before a subject that seems to be fashionable in the media, we propose these Conference.
Day: 21 May 2021
Hour: 10:00 - 14:00h
Place: Online
Credits: 0.40 ECTS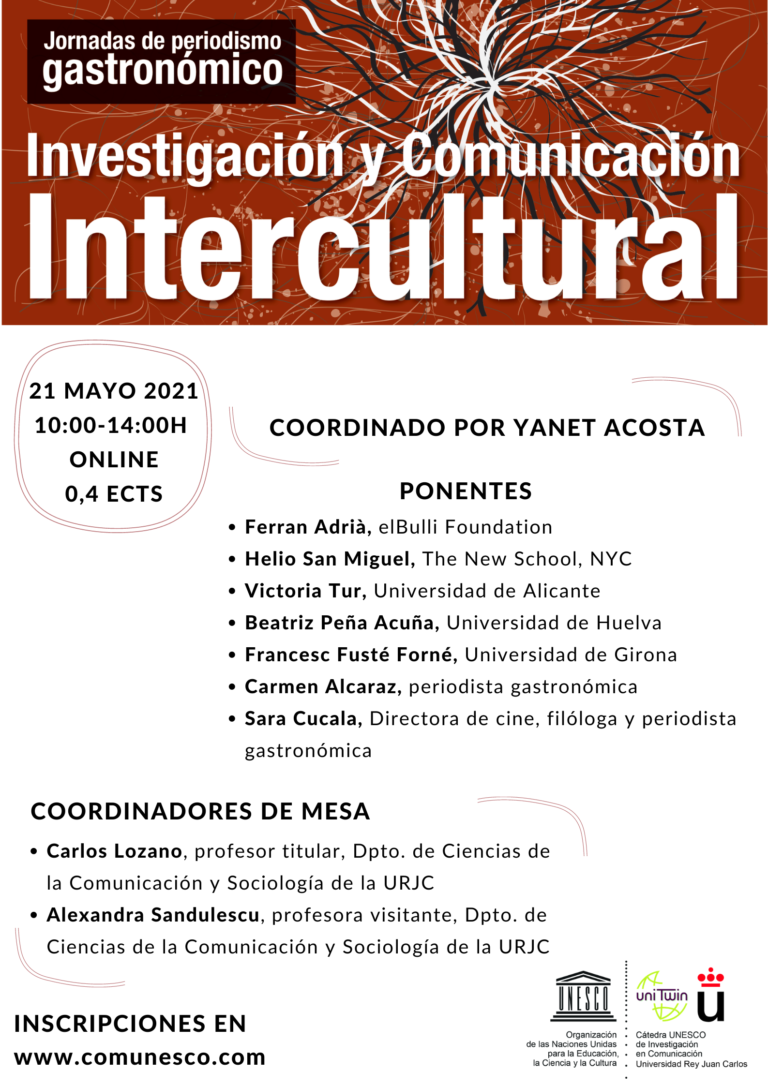 The management of public opinion and crisis communication in contemporary times
Coordinated by Rainer Rubira García and Jacqueline Venet Gutiérrez
This initiative aims to focus on communication processes for the management of public opinion in crisis situations from an innovative point of view. We propose to address aspects have as thread understand, reflect on and interpret the boundaries between communication, public opinion and crisis management, as convergent and complementary fields. The mission of the activity that we propose could be summarized based on the collective interest in studying communication processes, public opinion and crisis management from an innovative point of view taking into account the impact of technologies, but also the changes in public that have occurred in the last decade.
Day: 30 November 2020
Hour: 9:00-14:00h
Place: Online
Credits: 0.30 ECTS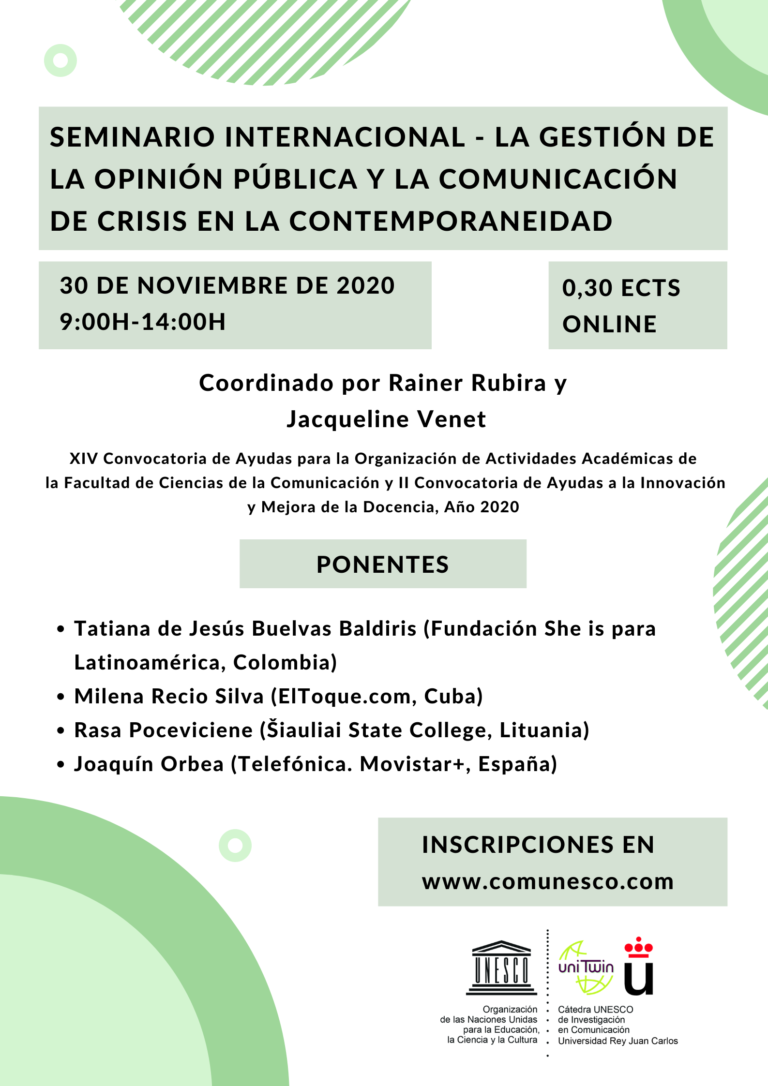 MapCom Latinoamérica: proposals to configure an interactive communication research map
XV Congress of the Latin American Association of Communication Researchers (ALAIC)
Panel with specialists to present the main results of the MapCom project about communication research (2007-2018) in Spanish universities: doctoral thesis, R&D projects, Scientific articles, books, communications to congresses and research groups and, at the same time, learn about and discuss the initiatives and contributions that other Latin American researchers are making in the same direction.
The main objectives pursued in this event is to establish strategies and methodologies for the design of geomatic maps that can become a working tool for all Ibero-American researchers focused on communication research..
Day: 17 November 2020
Hour: 8:00 hours (Colombia) - 14:00 hours (Spain)
Place: Online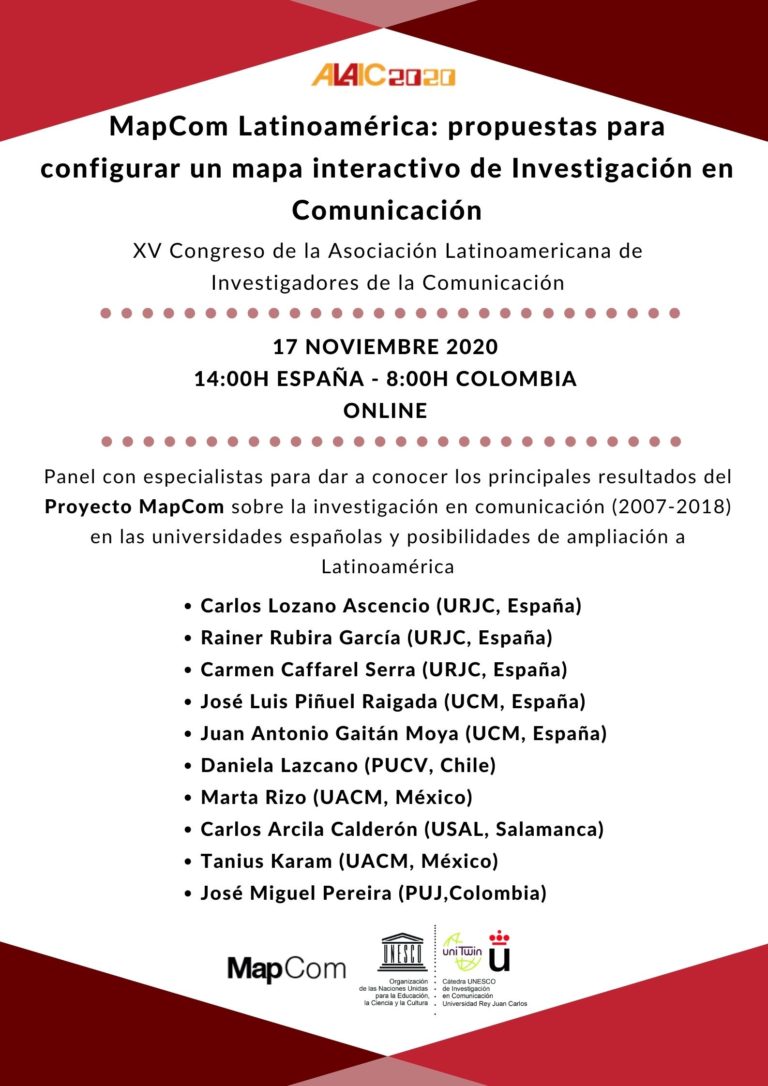 Innovation and creativity in and from the field of social communication
Creativity processes have attracted academic interest as an object of study in the field of Communication Sciences long. With the advent of communication technologies, the study of these phenomena has only grown in importance. For this reason, This initiative aims to focus on the processes of creation and from the communication from an innovative standpoint. We propose to address aspects have as thread understand, reflect and interpret the boundaries between communication and creativity, as convergent and complementary fields.
The mission of the activity we propose is warranted from the need to study and systematize experiences in relationships between the processes of communication and creation from an innovative standpoint taking, consider the impact of technology, but also the changes in public that have occurred in the last decade.
Day: 25 November 2019
Hour: 09:00 - 14:00h
Place: Communication Sciences Faculty, Campus of Fuenlabrada - Lecture 1, Aula Magna 007
Credits: 0.25 ECTS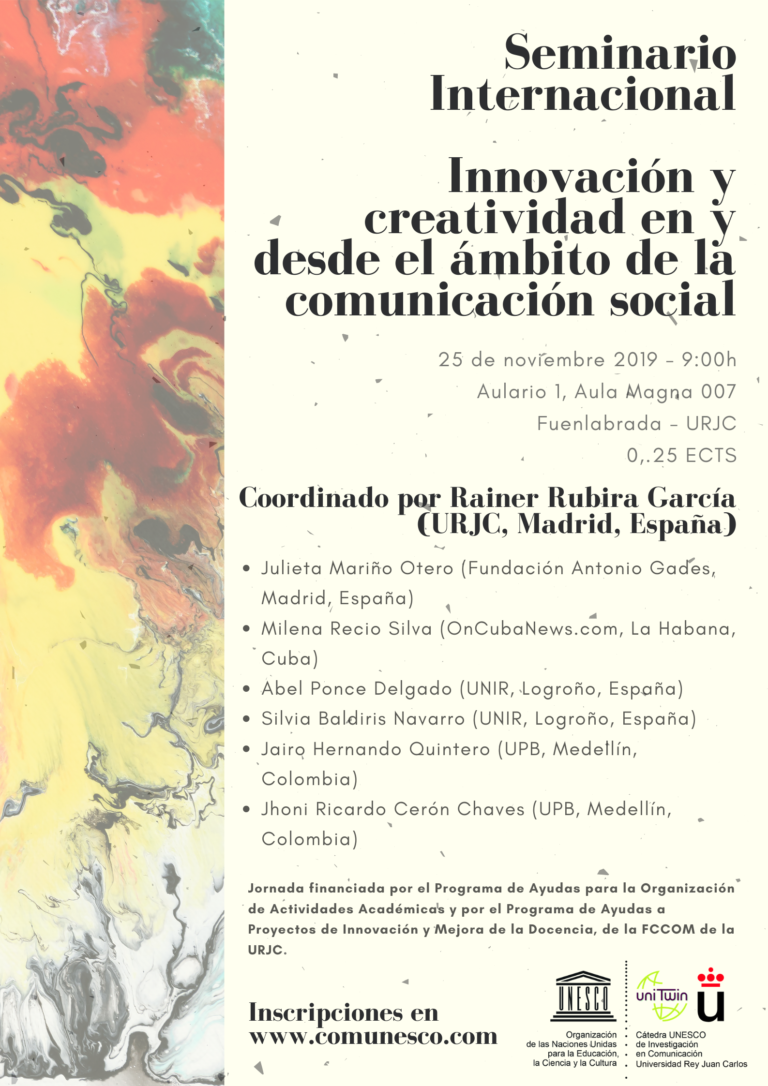 The transposition of the Directive on Audiovisual Communication Services: new scenario, new rules
Coordinated by Mae Lozano, Carmen Caffarel and Alejandro Perales
The aim of this conference is analyze changes in the audiovisual scene associated with the transposition into Spanish law of Directive (EU) 2018/1808 European Parliament and Council, of 14 of November, amending Directive audiovisual media services amending.
The round tables with the participation of experts, Administration and service providers audiovisual communication.
Cristina Morales Door, Deputy Director General Contents Information Society, Secretary of State for the Digital Advance (SEAD).
José Angel García Cabrera, Audiovisual deputy director of the National Commission for Markets and Competition (CNMC).
Roger Loppacher and Crehuet, President of the Audiovisual Council of Catalonia (CAC).
Joaquín Durán Ayo, Member of the Audiovisual Council of Andalusia (THAT:A).
Carmen Garcia Amores, Director General of Castilla La Mancha Media on behalf of the FORTA.
Eduardo Olano Codesido, President of the Union of Commercial Television in Open (UTECA).
Carolina Godayol Disario, President CONECTA, Theme Channels Association.
Antonio Vargas Cano, Public Policy Manager de Google.
Angel Garcia Castillejo, Lawyer specializing in audiovisual.
Maria Angeles Lopez Lobatón, Director of the Legal Department of Telefónica Digital Audiovisual.
---
Day: 13 November 2019
Hour: 9:00 – 14:00
Credits: 0,25 ECTS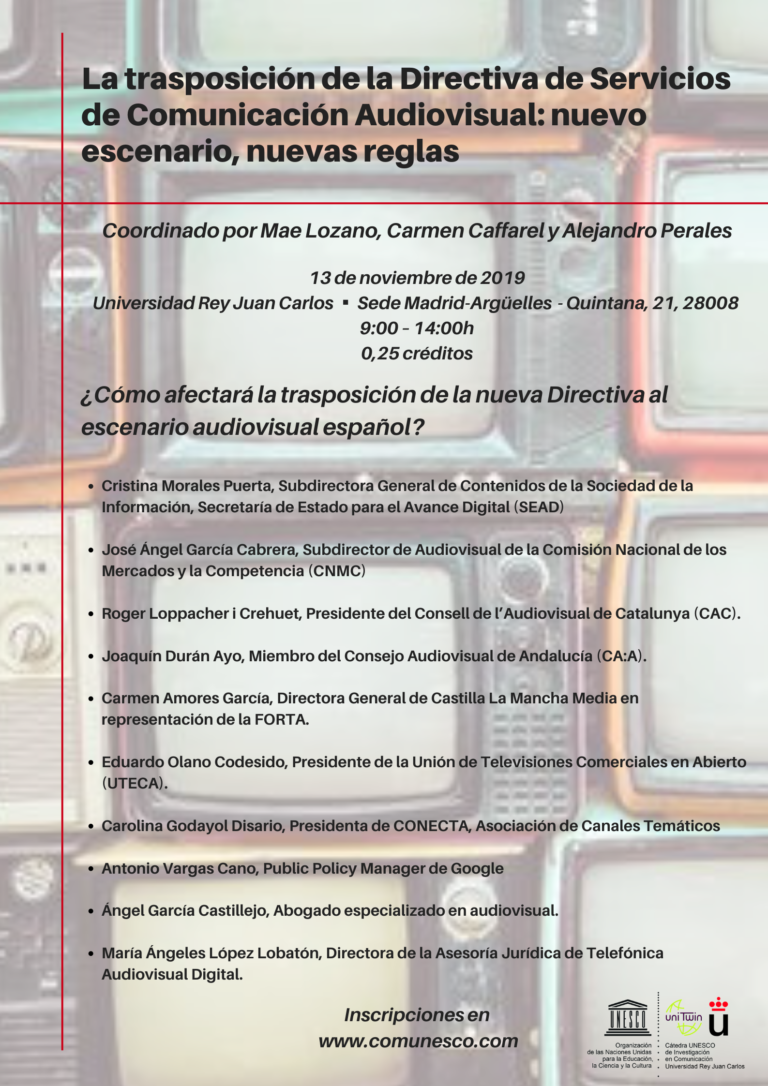 Some pictures of the seminar ...
Reputation Media: traditional media versus digital media
This conference aims to analyze and discuss with representatives meanings the national media and, both traditional and digital natives, his vision on reputation of both types of the media in Spain.
Day: 13 November 2018
Hour: 09:30 am
Place: Salón de actos – Gestión, Campus of Fuenlabrada
Credits: 0.25 ECTS
Reputation Media Communication. Dialogue between professionals and the University
It is available the presentation about "Social Media and Human Rights in Africa", from the Researcher Carlos Bajo Erro, which took place as a part of our event Africa: Communication and Human Rights Education, So close and yet so far.
The presentation can be consulted here.
Day: 13 November 2017
Hour: 10:00 am
Place: Salón de actos – Gestión, Campus of Fuenlabrada
Credits: 0.25 ECTS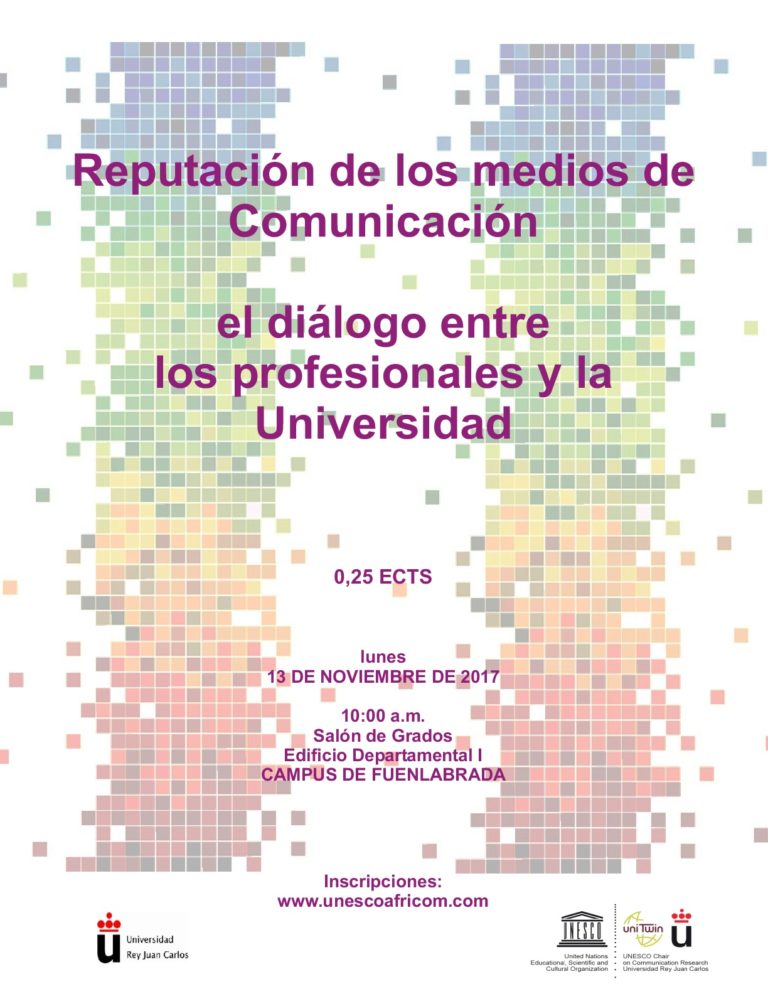 The actual Political Communication: new players, speeches and scenarios
I Ibero-American Forum of UNESCO Chairs in Communication
The event is organized by the UNESCO Chair in Communication and Culture of Peace who heads the School of Communication at the University of Lima.
In order to create a space for an academic dialogue, reflection and analysis on communication and connection with citizens, the Faculty of Communication at the University of Lima inaugurated the I Iberoamerican Forum of UNESCO Chairs in Communication. Our Chair participates with a presentation by our director Carmen Caffarel.
Days: 10 and 11 May 2016
Place: Central Auditorium of the University of Lima, Peru.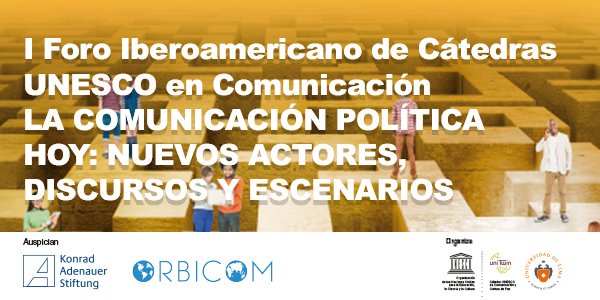 In the latest report of the CIS, February of 2013, journalists, with judges, are the two worst professions valued by the spanish people. The Communication Sciences Faculty from the URJC, in collaboration with the UNESCO Chair [Comunesco], has organized a conference, through presentations by different specialists, that aims to find the causes of the current reputation and search proposals to change the image of the profession. UNESCO presented, last July in Belgium, a document that aims to unify the overall teachings of journalism.
The conference will be attended by communication professionals, among which are: Carmen del Riego (APM), Alicia Gómez Montano (TVE), angel Exposito (COPE), Gloria Valenzuela (EFE), Ernesto Estévez (SER), Agustín Valladolid (ZoomNews). Moderators will be Carmen Caffarel and Mario García de Castro.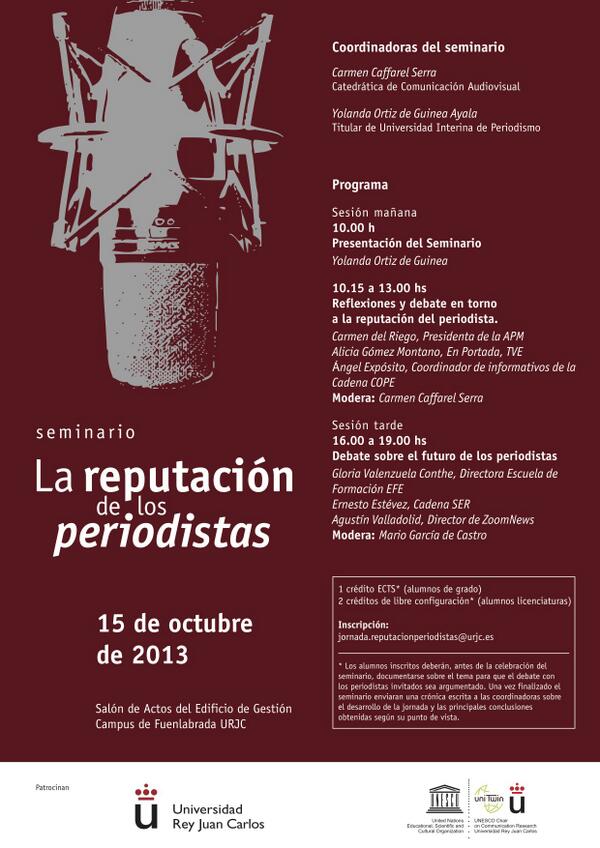 Permanent seminar (I)
Professor Fackson Banda
The professor. Fackson Banda (UNESCO) talked about some topics raised on the media landscape and the African reality. Among his most relevant ideas to guide the journalist's future, we highlight three:
develop a civic role: journalists are not only transmitters, they acquire a social and civic responsibility in their work.
develop the epistemic role: be able to generate knowledge, make sense to the big amount of data, interpret the reality in a meaningful way for people.
promoters of development processes: journalists as agents facilitating development, social transformation and people's empowerment.
Africa: Communication and Human Rights Education, So close and yet so far
Event's moments
In order of appearance:
Donato Ndongo: "Double standards protects perverse behaviors in Africa"
Mbuyi Kabunda: "Is there a Human Rights tradition in Africa?»
"Diversity and Freedom of Expression in Africa", by Professor Antoni Castel
Carlos Bajo talks about the environment 2.0 in Africa
Lucia Benitez: "Black feminism has an incredible strength '